The SCENIC PAINT CHARGE Is Responsible For The Safe And Timely Planning, Execution, And Completion Of Painting And Finishing Of All Projects. In Conjunction With Project Managers, The Scenic Charge Artist Manages Budgets And Coordinates Schedules. This Position Requires Advanced Skills In All Types Of Scenic Painting, Finishes, And Sculpture As Well As Proven Proficiency In Leading A Crew Of Artists.
Scenic Solutions Is An Equal Opportunity Employer And Drug Free Workplace.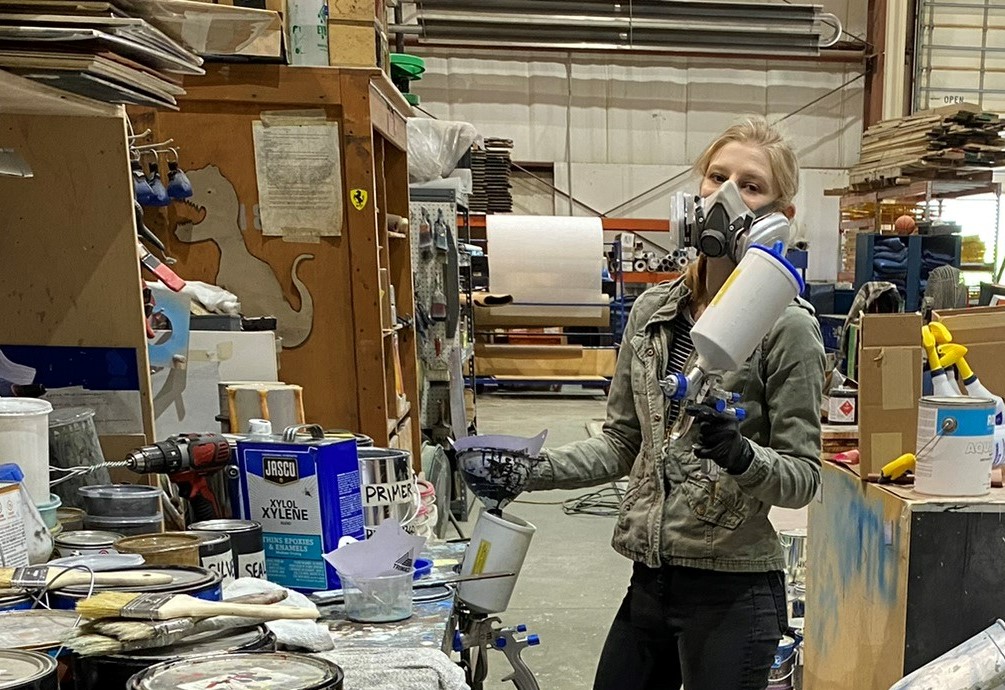 ACCOUNTABILITY
Our Success Depends On Accomplishing Outstanding Results, Meeting Deadlines, And Being Open To Learning New Skills.
At Scenic Solutions, We Are A Team. Each Person Has Their Responsibilities, But They All Lead To The Same Common Goal Of Success. Our Vision, Mission, And Values Define How We Approach Our Roles And Work With Others.
Situational Awareness Is One Key To Success. The Ability To Accurately Assess A Given Situation And Address It Appropriately Gives This Individual The Power To Determine Whether A Project Is Successful.
It Is A Privilege To Work In Our Industry. Our Staff Knows This And We All Make An Effort To Make Every Client Want To Use Us Again.
This Position Reports To The Plant Operations Manager And Art Director
DUTIES INCLUDE
Communicating Clearly. Respond To Instructions And Let Others Know When You Do Not Have The Information You Need To Do Your Job
Providing Excellent Customer Service. If You Think It's Wrong, It Is. Fix The Problem.
Consultation With The Scenic Designer And The Art Director To Interpret Renderings For All Scenic Elements.
Consultation With The Plant Operations Manager And Project Managers To Determine If The Scenic Elements As Designed Can Be Realized With Given Staff Levels And Budget.
Planning, Communicating, And Tracking Project Budgets.
Mixing Or Supervising The Mix Of All Paint And Textures Required To Execute Each Scenic Project.
Allocating Workflow To Scenic Paint Staff Based On Workload And Skill Level.
Supervising The Paint Staff.
Monitoring Paint Progress And Informing The Plant Operations Manager And Project Managers Of Any Potential Conflicts.
Creating And Maintaining Documentation For Each Project, Including Photos
Inventory And Maintenance Of Stock Of Required Paint And Supplies.
Paint And Surface Treatments On All Scenic Solutions Projects/ Products.
Applying Protective Coatings Where Necessary.
Prepping Scenic Surfaces Appropriately For Durability And Aesthetics, Including Filling Holes, Sanding, Priming, And Coating Foam.
Matching Wood Grains From Both Painted Wood Grain Finishes And Natural Wood Finishes.
Creating And Applying Various Three-Dimensional Textures, Such As Raised Wood Grains.
Authentically Ageing And Distressing Scenic Pieces, As Necessary.
Occasionally Carving Foam For Specialty Scenic Items.
Occasionally Dying Silk And Fabric For Ground Cloths And Fly Pieces.
Touching Up Scenery That Has Been Damaged In Rehearsal Or Performance.
Assisting With Installations And Touch-Ups On-Site, Both Local And International.
Filling Other Positions As Needed To Move Projects Toward Painting And Finishing.
REQUIREMENTS
Professional Experience As A Scenic Charge Artist Required.
Ability To Give Clear Directions, Encourage Questions, And Answer Them With Patience And Clarity When Working With Staff.
Ability To Set A Standard Of Excellence And Inspire A Sense Of Group Responsibility Among Team Members.
Demonstrated Experience In Personnel Management, Time Management, And Workflow Analysis.
Demonstrated Experience In Developing And Facilitating Procedures And Creating Documentation.
Ability To Plan Ahead And Anticipate Potential Setbacks.
Demonstrated Organizational Skills, Efficiency, Prioritization, And Multi-Tasking.
Has A Working Knowledge Of Safety Standards And Is Able To Implement Them.
Able To Remain Calm Under Stress. Knows How To Deescalate When Appropriate. Able To Resolve Conflict And Crisis Calmly And Succinctly. Able To Regulate Emotions And Rise Above The Feelings Of Others.
Positive Attitude.
Excellent Communication Skills.
Willingness To Collaborate.
Physical Ability To Climb Ladders.
Physical Ability To Lift Fifty Pounds.
Ability To Use Assigned Tools.
Ability To Read And Interpret Blueprints.
Familiar With And Able To Comply With All Safety Rules.
Pass And Maintain Drug-Free Workplace Testing Requirements.
Clean Criminal Background Check.
Ability To Thrive In A High-Pressure Environment That Requires Working Under Tight Deadlines.
Ability To Work Long Shifts And Overtime Hours, When Needed, While Maintaining A Positive And Collaborative Attitude.
Strong Commitment To Equity, Diversity, And Inclusion. Perform Work In A Manner That Is Consistent With That Commitment. Interrupt Behaviors That Hinder Diversity And Inclusion Efforts.
Valid Driver's License.
Valid US Passport Is Preferred.
Bachelor Of Arts Or Higher Is Preferred.
COMPENSATION
Paid Hourly At A Rate Of $17.00 To $25.00 Per Hour, Depending On Experience. Road Pay Is At A Premium Rate.
BENEFITS AVAILABLE UPON HIRE
Employee Assistance Program.
Paid Holidays. (8) New Year's Day, Memorial Day, July 4, Labor Day, Thanksgiving Day + Friday, Christmas Eve & Day.
BENEFITS AVAILABLE AFTER NINTY DAYS
Vacation Pay: Accumulate 80 Hours Per Year. The Maximum Amount Of Accrued Sick Time Is 120 Hours.
Sick Time: Accumulate Up To 40 Hours Per Year. The Maximum Amount Of Accrued Sick Time Is 80 Hours.
Access To The Company 401K Plan. Scenic Solutions Matches Employee Contributions Dollar For Dollar Up To 4% Of The Employee Contribution Limit.
Life Insurance @ $25,000.00. Premium Paid By Scenic Solutions.
Additional Life Coverage Is Optional.
Access To Company Health Coverage Plan. Scenic Solutions Will Cover 80% Of The Employee Premium. In Addition, Spouse And Family Coverage Is Available To Employees At Cost.
Access To Dental Company Insurance. Scenic Solutions Will Cover 100% Of The Employee Premium. In Addition, Spouse And Family Coverage Is Available To Employees At Cost.
Access To Company Vision Insurance. Scenic Solutions Will Cover 100% Of The Employee Premium. In Addition, Spouse And Family Coverage Is Available To Employees At Cost.
Are You Ready For An Exciting Job With Great Benefits?