Contact: Mary Beth McLaughlin, Scenic Solutions LLC
Email: MaryBeth.McLaughlin@ScenicSolutions.com
Phone: 937-866-5062
FOR IMMEDIATE RELEASE
Wichman brings key skills in management, organization, and employee development to the Scenic Solutions fabrication team.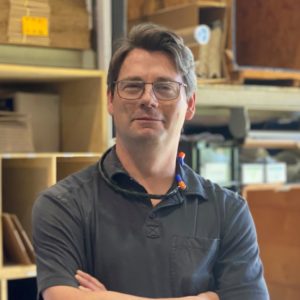 Dayton, Ohio, May 8, 2022 – Scenic Solutions is pleased to welcome Kyle Wichman as Plant Operations Manager. This is a new position for the company. Wichman's first day at Scenic Solutions will be Monday, May 8.
"We're extremely excited that Kyle has joined Scenic Solutions," said Chad Engleman, General Manager. Engleman worked previously with Wichman at River City Scenic in Cincinnati where Wichman climbed the ladder from Fabricator to Shop Forman and Lead Installer. Engleman continued, "He brings 25 years of experience in scenery construction, high-end display fabrication, logistics, and shop floor management to our team."
As Plant Operations Manager, Wichman will be responsible for leading the day-to-day operations of the fabrication department. This includes analyzing and improving Scenic Solutions fabrication processes, ensuring quality control, supervising safety measures, and labor management. He will also play a part in employee development and new hire training.
Wichman's years as Scene Shop Foreman for the University of Cincinnati's College-Conservatory of Music (CCM) will certainly be an asset for employee training and development. At CCM, Wichman managed young and inexperienced technicians who were at the beginning of learning stage craft. Veronica R. Bishop, Scenic Solutions Senior Project Manager said, "Because of his experience at CCM, Kyle is the perfect choice to help our younger employees who want to learn and advance their skill set. He will allow us to be more intentional in the growth and development of our employees."
With Wichman in place as Plant Operations Manager, Scenic Solutions has taken another step forward in growing its prowess and reputation as a full-service scenic construction facility. Scenic Solutions has always valued the investment in knowledge to create a better experience for its employees. Wichman will be a valuable tool to help grow employees' skills and experience. He will also bring additional expertise to the company's vision of providing the best service, delivering the best product, and building the entertainment industry.
Founded in 1996, Scenic Solutions is a family-owned company with a family-oriented culture based on equity, diversity, and inclusion. A full-service manufacturing shop, Scenic Solutions also has the expertise you need for success on stage space construction or renovation and is an authorized dealer for many entertainment industry brands and product lines. Scenic Solutions: providing peerless service, equipment, and expertise to clients world-wide. www.ScenicSolutions.com
###
If you would like further information, please contact Mary Beth McLaughlin at 937-866-5062 or MaryBeth.McLaughlin@ScenicSolutions.com.