Last month while we were all staying home to flatten the curve, we celebrated the one-year employment anniversary of Tom Sellars, one of our project managers.
Tom's career in the entertainment industry spans 30-years, and he attributes some of his success to the people he's met along the way. "I've worked with some of the best people in the business, they've become my good friends, and they've taught me a lot. I'm very grateful for all of them." Tom attended Middle Tennessee State University where he majored in Recording Industry Management (RIM) with a minor in Entertainment and Theatre.
In addition to his project manager duties at Scenic Solutions, Tom is also responsible for project drafting, installation, sales, and preliminary planning and estimating on new jobs.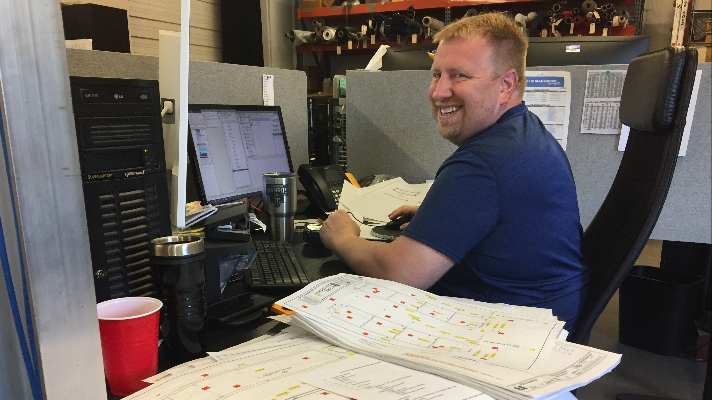 During his career, Tom has worked as a lighting designer, sound engineer, sound designer, programmer, set designer, welder, carpenter, production manager, technical director, camera man, grip, video editor, and has run audio for movie shoots. He's worked for audio, lighting, and video companies. He's worked behind-the-scenes at corporate and live events. He's gone on the road with ice shows. He's a member of our IATSE Local (Local 66 in Dayton, Ohio). He owns his own company, Eagle Eye Design. And he also volunteers as media director at his church.
With so much variety to his professional life, it's not surprising that Tom advises people just entering the industry, "Don't just focus on one job. Learn more than one discipline. And don't be afraid to ask a lot of questions."
Tom told us "I really enjoy working with the creative and talented staff at Scenic Solutions. Everyone here is very valuable in their area and we all bring great Ideas to the table. We work as a team."
Tom's professional work in audio may have been inspired by the joy he finds in listening to music and going to concerts. He likes to travel–especially if the destination is a theme park with roller coasters. Tom is a serious barbecue chef. "I love to cook barbecue! I have a Myron Mixon Gravity Smoker and I make my own barbecue sauce and rubs." Myron Mixon is a four-time world barbecue champion chef, and Tom has attended his cooking school in Georgia.
A competent project manager, with mad audio/visual skills, who's been to barbecue cooking school? Though we're still waiting to sample his famous brisket, how could he not be an asset to our team?