"It's a process. Take it one step at a time and you'll get through it." Cool. Calm. Organized. And smart. Tien Cao has returned to Scenic Solutions to help us manage, and install, the set for Blue Man Group's Speechless Tour.
Tien first joined Scenic Solutions in 2009 as an overhire. It wasn't too long before he was a permanent, full time employee. "Like others at Scenic Solutions, I went to Wright State University (WSU). I was a procrastinator in high school with no idea what to do with my life. But with help from my friends and family, I was directed to WSU and found something I was good at. I kind of fell into the industry. I graduated with a BFA in Theatre Design/Technology, with an emphasis in Technical Direction and Sound Engineering. Both WSU and Scenic Solutions taught me everything I know, and I'm incredibly grateful–which is the reason why I come back from time to time."
When he talks about his early years with Scenic Solutions, he likes to mention two productions. "One of my most memorable shows was Peter Pan for the Milwaukee Ballet in 2010. It was one of my first projects for Scenic Solutions. Building a pirate ship was awesome!"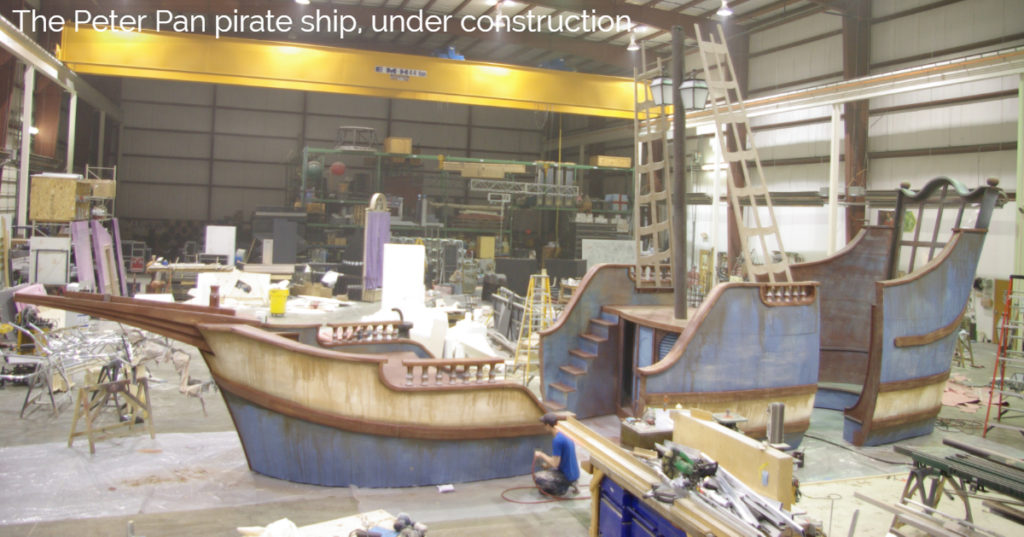 And WrestleMania 27 is definitely something I mention a lot. When people ask about what it looked like, it's pretty cool to be able to say  'just Google it.'"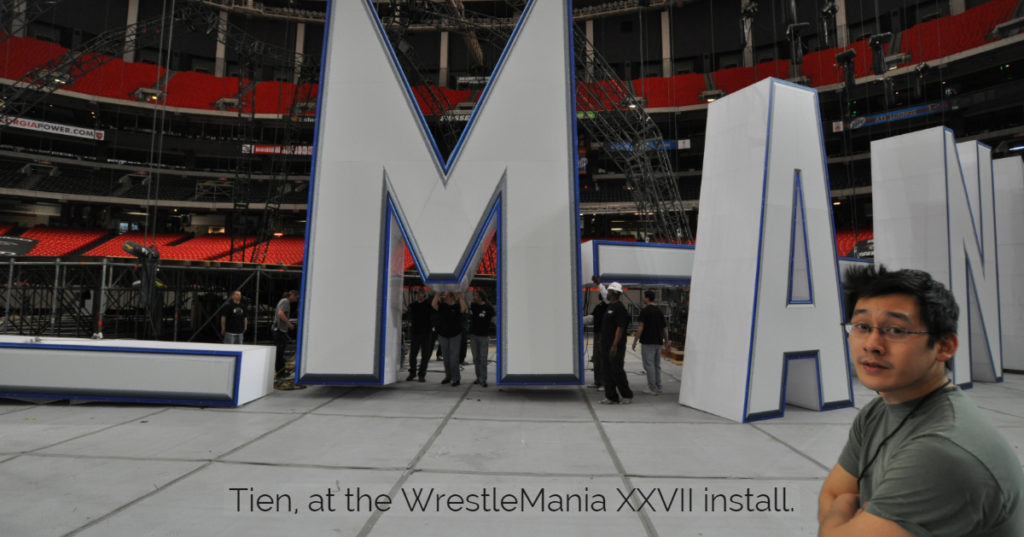 In 2013, Tien expanded his horizons by moving to Chicago. In addition to his project management /fabrication/installation skills, he's also blossomed as a performer.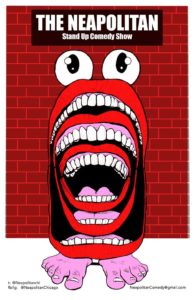 "I'm pursuing standup comedy, and that's something I'm embarrassed–but also proud–to say. It's tough, but really fun. I've met my best friends through comedy, and now it's a big part of my life. If you ever come to Chicago, be sure to check out The Neapolitan! We give out ice cream at the end of the show!"
No matter how naturally it may come to some people, standup comedy is not easy. It demands quick wit, fast thinking, a sense of timing, and the flexibility to react in the moment. When those skills are combined with an expertise in scenery construction and the ability to organize and manage a crew of skilled technicians and fabricators, you can be assured your project will be a tremendous success. We're so glad that Tien had the time to come back to Dayton to help us with our latest project. Maybe we can tempt him to come back to Scenic Solutions on a more permanent basis!
Welcome back, Tien!