In April, we celebrated our one-year anniversary with Scott Woxman. Scott came to us from Princess Cruises, where he traveled throughout the fleet working as onboard staff, often managing the technical side of the entertainment on board, and installing new shows and initiatives.
With years of experience working on cruise ships, Scott has been a welcome asset on our team. Because he's been the end user of scenery built by other shops, he knows what works and what doesn't. He understands the many requirements and restrictions that come with supplying materials to the vessels. Since he's lived and worked on a ship (17 different vessels!), he knows what is required of the ship staff on a day-to-day basis. He can easily create a schedule that allows us and them to get the necessary work done. This experience makes him a very thorough and quality-oriented Scenic Solutions project manager.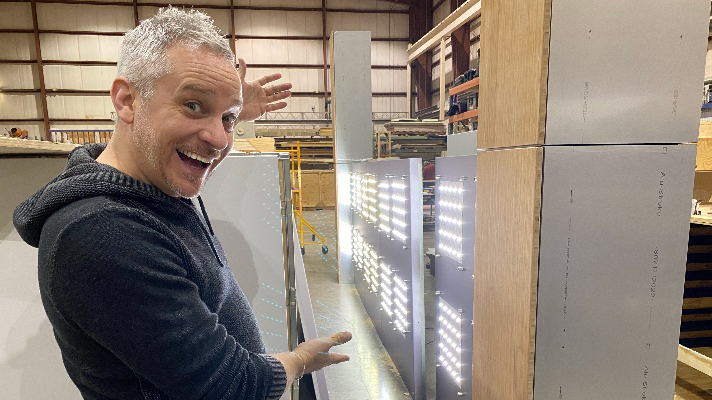 About his job at Scenic Solutions Scott told us, "As a project manager, I'm usually working on a few different projects at a time. Anything from the day-to-day managing and follow up to keep projects on time, to ordering supplies and materials, drafting the build drawings for the shop floor, or shipping soft goods and Amazon orders. Outside of the shop, I could be doing site surveys, project installations or flame treating."
In February, one of Scott's projects was overseeing the construction of our new tradeshow booth–built for the 2020 USITT conference, which was cancelled. "The booth was a brand-new design for us, and Houston was going to be its premiere. Dan," (Scenic Solutions' President) "supplied the basic design and I ran with it, fleshing out the details and materials to create a one of a kind eye-catching display. It included two dozen 20-inch square back lit photo collages of our recent work." The finished booth is beautiful. We hope to premiere it in 2021.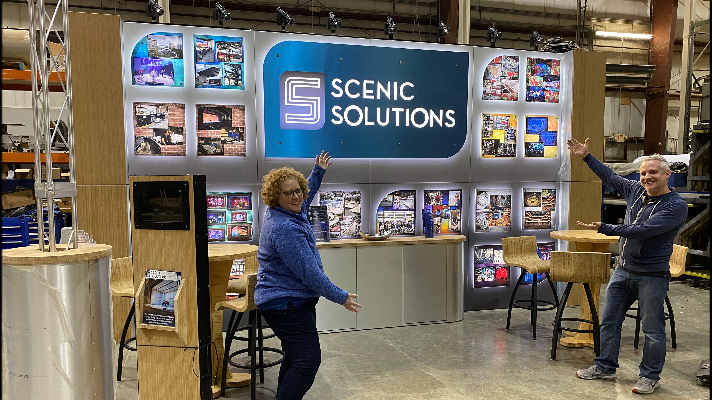 A Dayton native, Scott graduated from Wright State University with a BFA in Design Technology and Stage Management. In addition to his ten years as a senior production manager and project manager for Princess Cruises, he's worked at the Goodman Theatre in Chicago, and at the Alabama Ballet. He has eight years in retail management and he also spent a year as a club DJ. It's an interesting mix of skills that allows him to adapt to almost any situation.
Even with all his experience, Scott continues to learn. "The industry is always changing, and you have to be able to adapt to the changes. Take advantage of any additional training you can, read books, take courses online or do workshops." Some of his learning comes from the team. "You should always rely on the knowledge of those you work with. You may become stuck on a problem, but chances are someone you work with has encountered the same issue and they know a quick way to get past it."
Scott is happy with his career move from sea to shore. "I've enjoyed getting out of the rinse-and-repeat mindset and working on a variety of different projects, where each job is something new. From hanging new curtains and tracks in a high school, to a Scenic Solutions install on a cruise ship in Europe or finding all the props to finish up the elf boxes, it's never the same week twice."
Looks like Scott is having a good time. We're having a good time too because he makes each project fun!