We're not sure why, but Jeff Young is always smiling. And it's hard not to smile back at someone with such a sunny disposition. This month, we're celebrating Jeff's one-year employment anniversary as a Scenic Solutions carpenter-fabricator.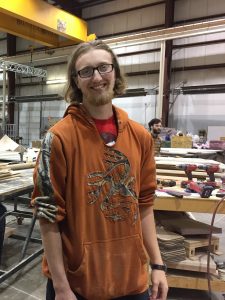 Jeff has been building things all his life. He started helping his father when he was four-years old, and he hasn't stopped. He told us, "Building has always been a strong passion of mine, so putting my skills to use professionally is extremely rewarding."
Over this past year, Jeff has been focused on expanding his abilities by sharpening old skills, and mastering new ones. "The field is always changing, especially with the current state of the world," he told us. "It's important for an employee in a fabrication business to have a wide range of technical skills. This can broaden the jobs a company can take on, and keeps people working."  This past year has seen Jeff working on projects that range from small (a quick upgrade to the stage for a local business) to huge (a national tour that required a crew of 40 and several months to complete). Each project has brought Jeff new learnings.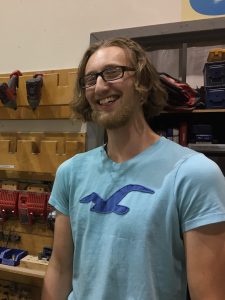 "Working in carpentry has been extremely fulfilling for me, I love skills that can translate into everyday life such as the repair and upkeep of structures," Jeff says. "My absolute favorite aspect of the job is that I get to advance the progress on something every time I come into work. That could mean adding something to a large project, completing a project, or simply being able to enhance my skills and knowledge during the process."
During Ohio's COVID-19 quarantine, Jeff spent time learning new things—including completing OSHA's 30-Hour General Industry Safety and Health certification. "After being away from the shop for six weeks, we came back to work swinging hard. We will come back from this pandemic stronger as a company than we were before. There will always be room for growth, and I'm looking forward to seeing that in all of us here at Scenic Solutions." Amen!